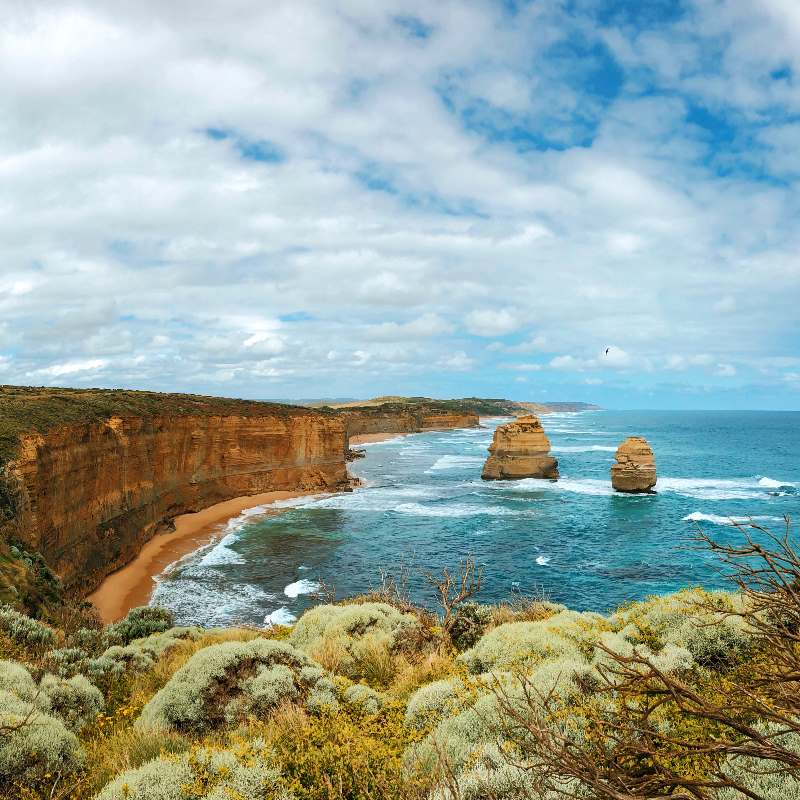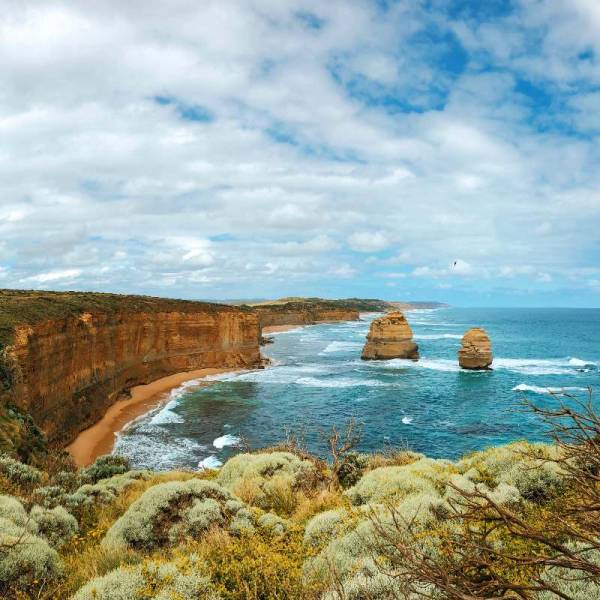 The Great Ocean Road
The Great Ocean Road is a great Australian National treasure; a must for foreigners staying in Australia for shorter stays and a route regularly travelled by Residents. The sheer volume of attractions is enough to draw you in to this adventure including the worlds largest war memorial, natural marvels such as waterfalls and staggering rock formations, as well as quaint towns brimming with Australian cheer.
The drive can be done in two days with little down time to spare, but we recommend taking a longer five-or-so day break and soaking up the landscape along the way, wandering around the spectacular National Parks and staying for that little bit longer in one of the many gorgeous villages.
Caravan parks along The Great Ocean Road are in no way hard to find and highly recommended for the most budget friendly way to travel. We recommend researching your Caravan parks before pulling up to them as some do not allow pets for example, or may not have the facilities your Caravan requires. Another benefit to researching Holiday pars and Caravan parks before hand is that you may not be aware of the great local attractions in that specific area, and Caravan park website will always have ample information for things to see. Do your research before hand to get the most out of every spot you stop at on the Great Ocean Road!
The Great Ocean Road – Victorian Coastline – Melbourne to Port Campbell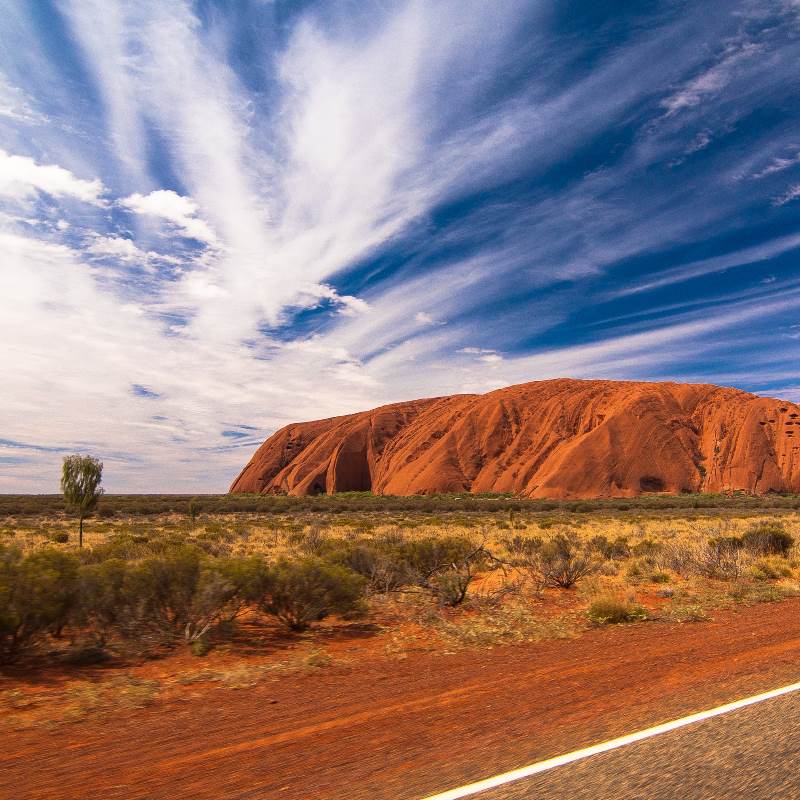 The Red Centre Way
To experience the true diversity and magnificence of the Australian landscape, no better route is available than the Red Centre Way. This route takes you through places like Uluru, Kata Tjuta, Alice Springs, Kings Canyon and the West MacDonnell Ranges. Wildlife is abundant with Kangaroos, wild Goannas, Camels and dingoes scattered around the breath taking landscape.
The Australian Red Centre is most suited to FWD vehicles and those that can handle rougher terrain. You can still see plenty of the outback in a Caravan or Travel home, and as always best to research your routes before taking them on. We recommend taking 5 days to complete a loop from Alice Springs to Uluru, back to Alice Springs through Kings Canyon and Glen Helen. For a really budget friendly option, take a Caravan and stop at one of the many Caravan parks available- one of the best being Ayers Rock Campground.
It's important to note the fuel options in the Red Centre- townships become sparse and you can be driving for long periods without access to fuel, food, water and bathrooms; which is why we absolutely recommend taking a Caravan that can provide all your comforts and take on the hardy road. Be prepared for a landscape untouched by human hands and be sure your vehicle is ready!
The Red Centre Way: Alice Springs, Ayers Rock &  Kings Canyon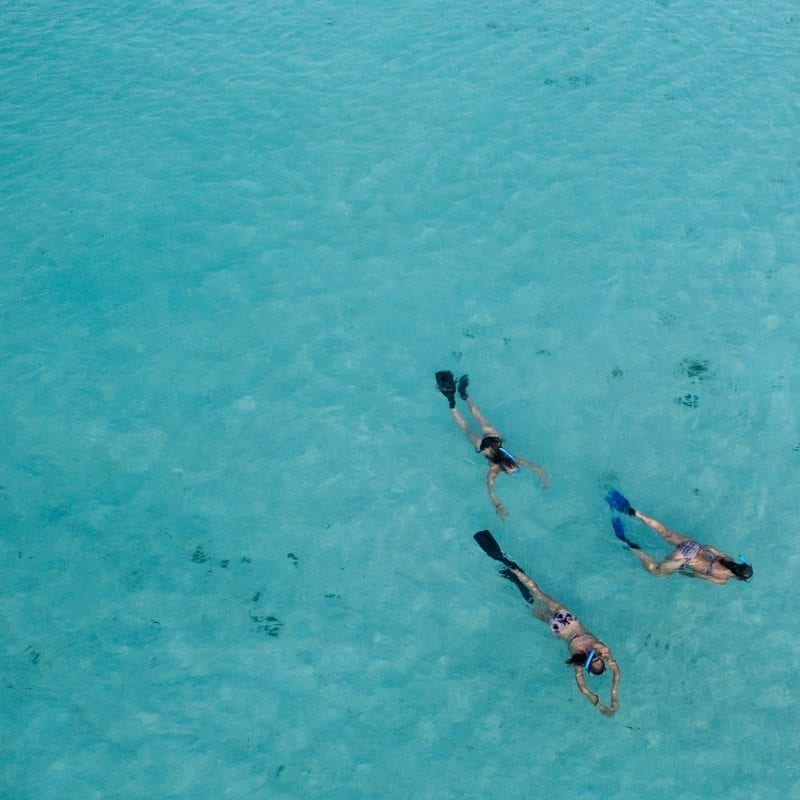 The Great Barrier Reef
Arguably Australia's most famous attraction- The Great Barrier Reef and Tropical North Queensland at large is a sight not to be missed by anyone living or travelling in Australia. This is not a road trip to be rushed- the enticing and relaxing landscape will undoubtedly inspire you to slow down and leave the busy bustle behind. We recommend at least 5 days to travel between Cairns and Cape Tribulation.
Closer to Cape Tribulation that Cairns is the Daintree Rainforest- an equally beautiful landmark and historical marvel. The Daintree Rainforest is home to some of Australia's oldest and rarest species and is a fascinating adventure for wildlife enthusiasts. With towering, ancient trees, exotic flowers and rare wildlife- the Daintree Rainforest is one element you can't leave out of your Road Trip across the North Queensland coast.
The Coastline drive is predominantly on Captain Cook Highway and is a very easy route to follow. We recommend staying overnight in towns like Mossman, Port Douglas, Palm Cove and Thornton Beach where you can find plenty of options for dining, coffee and adventure sports like diving, snorkelling and swimming with some of Australia's most famous creatures- the scary and not so scary ones!
Accommodation options range from stellar 5-star resorts to caravan and holiday parks designed for families. We recommend taking advantage of the well thought out tourist / Caravan parks like Barrier Reef Tourist Park in Cairns and Newell Beach Caravan Park in Mossman.
This adventure offers a diverse range of experiences and could be considered the number one must see Australian Attraction.
The Great Barrier Reef Drive: Cairns to Cape Tribulation